Annabelle is a mischievous little girl and would do anything to achieve her goals like Isabelle. She shares her love of chocolate with her sister Isabelle and her brother Tommy and her auntie, Chelsea. She also has great heart too despite her bad manners sometimes. She and Isabelle are also interested in helping people. Annabelle is also the health monitor in her class and she's good at making sure everyone has washed their hands and has no germs. But she's not very good at expressing herself to other people. Something she and Isabelle have in common is that one or both of the twins will be overconfident about something but when that something happens, they get scared. Episode 294 shows this as they listen to a story about a horse that's scared of the storm. They both think that they won't be scared but when a storm comes, they both get scared for dear life, just like Barbie suspected.
Appearance
[
]
Annabelle has long dark blonde hair and usually wears her hair in pigtails. In the photo on this page of her, Annabelle has a dark blue floral dress. She has Silver-Blue eyes. She wears a dark pink hair clip with two stars. Her nightwear consists of a purple night gown or sometimes she wears pink two piece pyjamas with candy hearts on them that say "XOXO." She has many swimsuits but her usual one is the same as Isabelle's: the swimsuit is pink and has dark pink straps and black stars on it.
Relationship
[
]
Her siblings are Isabelle and Tommy. Learn about her relationship with Isabelle and Tommy here: Annabelle, Isabelle, And Tommy.
 Trivia
[
]
Tommy calls her the nickname "Annabelly"
She is competitive but is more competitive than Isabelle.
She and Isabelle are the zodiac sign Taurus ♉️, although this is Unconfirmed
She is also 6 years old!
She and Isabelle are spoiled at times.
She, along with Chelsea, Tommy, and Isabelle created a rap group known as The Rapsters.
She and her siblings are not very talented singers, but are very very gifted rappers!
She is a little angry if Isabelle wears the same clothes
In episode "The Karate Master", she said she can't do karate, but after that she's good at karate
Likes And Dislikes
[
]
She doesn't like soup
She, nor Isabelle likes peas
She likes Girl Guides and Gymnastics and maybe Ballet
She likes being Spoiled
She likes Musical Chairs.
She likes chocolate ice cream
She doesn't like Tommy calling her Annabelly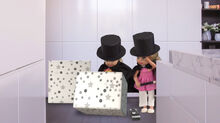 Characters
The Carsons:

Ken's Mum

, Ben, Ken, Barbie, Skipper, Stacie, Chelsea, Annabelle, Isabelle, Tommy The Roberts:

Barbie's Grandma

,

Margaret Roberts

, Barbie, Skipper, Stacie, Chelsea