Isabelle does know a little bit the words to pronounce.

Isabelle is the Sister of Annabelle and Chelsea she is a member of The Rapsters.
Appear
[
]
Isabelle is a young, light skinned girl with pink hair. In the photo of her above, she wears a dress with a white bodice and blue skirt with pink hearts. She wears a tea rose pink bow on her hair.
Her nightwear is sometimes a purple night gown, but sometimes, she wears pink two piece pyjamas with candy hearts on them that say "Party Her swimsuits can differ at times but her usual swimsuit is pink and has two dark pink straps and tiny light pink hearts on it.
Relationships
[
]
Page: Annabelle, Isabelle, And Tommy.
Template:Huge Relationships with family
Isabelle has a great pink her mother, despite the fact that she rarely plays with them owing to Barbie's busy schedule. Isabelle loves her mother very much, but she despises it when Barbie is being strict on them for their safety. She also drives the twins to gymnastics, schools, and playdates, as well as offering advice when they have problems. They Want to be just like Chelsea Roberts]].
Isabelle enjoys making phone calls or playing practical jokes on her father, Ken, alongside her twin sister. She despises it when her father goes out and buys Ben 10 merchandise. Ken like to play with the kids since he enjoys it as well. They like playing The Floor Is Lava and Ken accidentally offering them stupid advise.
The twins are very close, but they are always annoying each other. Playing games, American Dolls, and Shopkins are their favorite to play. Because they are twins, Isabelle and her sister have the same personality, but they have different fashion styles. Isabelle oftenly fight with her twin sister and strives to outperform her. Despite this, they love each other. Annabelle has a twin sister Isabelle Carson
Trivia
[
]
She is currently attending Sunnyday Preschool with Annabelle.
Her and Annabelle's character design was base off the 'Barbie: I can be a dentist' set.
She And Annabelle's Zodiac Signs are Gemini ♊️
They were the imposters to be voted out during the Among Us but in real life game. She was pink.
Despite debuting in episode 21, she and Annabelle actually debuted in Barbie's Cruise Ship Adventure. She was referred to as Isabella and Annabelle was referred to as Annabella.Or Annabelle Carson
She got sick a fair few times. An example is when she had amnesia from bumping her head hard, losing her voice, catching a very bad cold, tonsillitis.
Likes And Dislikes
[
]
Likes: chocolate, chocolate ice cream, swimming, slime, preschool, , painting, drawing, her friends, Jillian, her mom Barbie and gymnastics.
Dislikes: Getting in trouble, losing, what Ken and Barbie are saying (when she is doing something bad), Annabelle winning, Chelsea ( when she does not let her do something when she is doing something). Tommy (Tattled on her In Episode 259 When Tommy Thinks She uses Barbie's Lipstick to draw on the wall) Taffy (interrupted her saying go down the big slide).
She dislikes licking, slurping, smelling, sucking and massaging Chelsea's feet
First Word: Mama
Relatives
[
]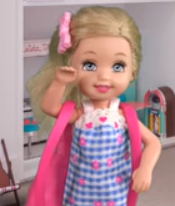 Gallery And Videos
[
]
[[File:Isabelle Carson.png]]